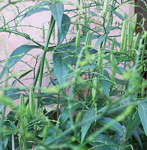 Scientific name: Andrographis paniculata
Common name: King of Bitter
Local name: Bile earth
Family: Acanthaceae

Introduction:
This herb is a plant that has a short shelf life of approximately one year. It originates from Southeast Asia, China and India. Due to the high reproductive capacity of the plant is said to be the enemy in several places. The plant is used centuries ago as a treatment, especially in China, India and Java. However, lately this plant has the ability as herbaceous plants and entered the pharmacy market. This plant is a herbal treatment that can treat mild pain and has been proven over many symptoms that are associated with the effect of the antibodies that have been produced to fight substance present in the body (autoimmune)
Plant Features
Is a plant that grows upright with a short life expectancy of approximately one year and can reach heights of up to 60-70 cm. Stem rectangular and has a lot of branches. The leaves are green, the arrangement of leaves short, smooth. Leaf arrangement is a 'decussate' which leaves the pair in opposite directions.
Plant habit
Gall of the earth are generally found in the wild in the area of open land and the area covered with grass. In Malaysia bile earth is usually grown in the back yard or in pots of herbs for medicine. This plant is a hardy plant and can live well in a variety of soil types.

The Used
     Leaves and whole plant parts.
Traditional Practice Nursing
This plant is a plant that can provide an analgesic that can relieve pain, can be used as a laxative (laxative drugs), drug manufacturers phlegm, digestion and is also used as a treatment for diabetes, fever, worm infection, chronic bronchitis (swelling of the tube air in the throat), leprosy, indigestion or abdominal bloating, abdominal pain, dysentery (diarrhea) and skin diseases (burns, wounds and ulcers). This plant can also treat snake bites and irregular menstrual cycles.