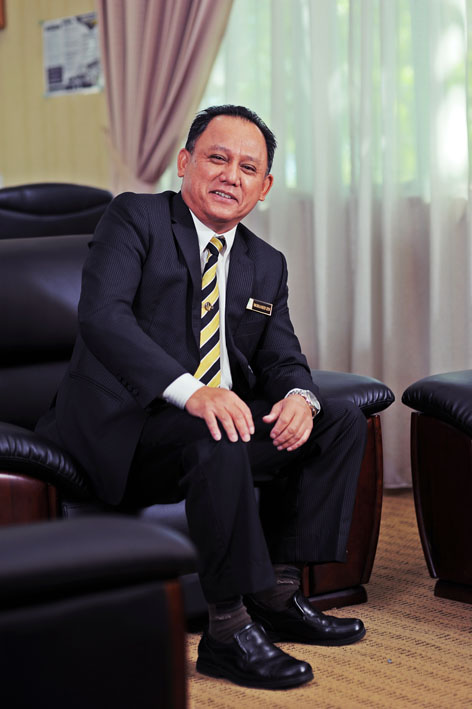 Assalamualaikum w.t.b
Welcome to the Perak Forestry Department website. First of all Alhamdulillah, t
he Perak State Forestry Department website has been updated with new content for this year.
In order to achieve the vision of the Forestry Department of Peninsular Malaysia (JPSM), to be recognized as a leading forest management agency, the Perak State Forestry Department has obtained the Forest Management Certificate in accordance with the MC&I (Natural Forest) Standard for July 11, 2019-May 31, 2024 among others, acknowledges that the forest area in the State of Perak Darul Ridzuan has been managed in perpetuity in compliance with the requirements of the Criteria and Guidelines for Permanent Forest Management of Malaysia, MC&I (Natural Forest).
The state of Perak Darul Ridzuan has about 991,171.37 hectares or about 48.70% of the total area is still forest. In this regard, the Perak State Forestry Department is given roles and responsibilities not only in terms of development and management of the forest but also the role of preservation and monitoring of forest areas to ensure that it will continue to function to maintain environmental stability.



The lessons learned from all the experiences we have had can serve as a lesson to help the department in planning its best plans to move forward to achieve better results this year. Among the successes achieved in 2019 are :-
Permanent Forest Management Certificate for Natural Forests in Perul Darul Ridzuan Permanent Forest Reserve under the

Malaysian Timber Certification Scheme (MTCS) for July 11, 2019 -31 May 2024.

T

o achieve the State Revenue of RM52million which the Department has successfully raised RM55million for 2019.




Ensuring that the financial allocation expenditure exceeds 96% where the Department spends 97%.

The Department's achievements in implementing a 1 Million Tree Planting Program and the Department have successfully planted 2 Million Trees for 2019.

Implementing International Forestry & Social Forestry Program with CFS Roadshow.

Implementation of Visible Enforcement where 56 forest clearance cases have been successfully identified which involve collection of over RM1 million forest offenses. There are eight (8) cases of forest wrong doing accused in court and holding an Integrated OPS with various departments and enforcement agencies.

Reporting / addition of HSK covering 2,129.67 hectares.

Update SOP and establish online usage.

Use the attractions and benefits of the Forest to generate new results.

Publicity and disclosure of Department activities for image enhancement.

Tree Adoption Payment Scheme. The Perak Oxygen Land Bank (POLB) which was launched by the Prime Minister of Perak on November 21, 2019 has reached an initial raise of RM193 thousand.

Preparation of policy documents & policies for the CFS Master Plan of the Silver State & RPH Mature Sea Coast 2020 - 2029
Looking at the achievements in 2019, I have set 8 Top New Goals by 2020 so that the existing achievements will be able to maintain their performance and the new targets will enable the JPNPk a thousand steps forward. I believe that the cooperation and enthusiasm shown by the Perak State Forestry Department staffs can lead the Department forward. Therefore, 2020 will aim to:

Contributing to the state revenue of RM57 Million.

Strengthening Forest Reserve Management.

Good financial management.

Implement a 2 million forest planting program.

Implementation of Program Communication, Education & Public Awareness (CEPA).

Enforcement of National Forestry Act 1984 & Timber Industry Industry Enactment.

Strengthening Integrity.

Governance
I would like to express my sincere thanks to all members of the Perak State Forestry Department for their continued contribution and commitment in pursuit of service excellence in achieving the department's vision of becoming a leading agency in sustainable tropical forest management. I would also like to express my gratitude to the JPSM, all relevant Government Agencies and Non-Governmental Organizations for all the cooperation and support provided to the Perak State Forestry Department.

Thank you.
Wabillahi Taufiq Walhidayah. Wassalamualaikum Wabarakatuh.


DATO' MOHAMED ZIN BIN YUSOP
Director of Perak State Forestry Department